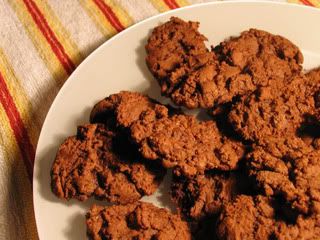 Who doesn't love chocolate chip cookies? I've yet to meet someone who does not like chocolate chip cookies. I know I do. So, I found a recipe online for a healthier version. This recipe uses half the normal amount of butter, an egg white instead of a whole egg, and uses cocoa powder to enhance the chocolate taste, instead a ton of chocolate chips. These aren't the most aesthetically pleasing cookies ever, but my tummy didn't mind and yours won't either! Enjoy!

* 1/4 cup butter, softened
* 1/2 cup sugar
* 1/4 cup brown sugar
* 1 egg white
* 1 tsp vanilla extract
* 1 cup all-purpose flour
* 1/2 tsp baking soda
* 1/4 tsp salt
* 1/4 cup cocoa powder
* 1/3 cup miniature chocolate chips
Preparation:
Preheat oven to 375 degrees.
In a large bowl, beat butter and sugars together with an electric mixer until creamy. Add egg white and vanilla and mix until well blended.
In a medium bowl, combine flour, baking soda, salt and cocoa powder. Gradually add flour mixture to egg and sugar. Use a wooden spoon to work the dough together. Don't worry if the dough seems a little crumbly at first.
(this is an understatement, the dough is VERY crumbly)
Stir in chocolate chips.
Drop cookie dough by the teaspoonful on to a cookie sheet lined with parchment paper or a silicone mat if you have one.
(the cookies look tiny before baking, but fluff up nicely after they're baked :)

Bake for 8-10 minutes. Cool on cookie sheet for 1 minute, then transfer to wire rack to cool completely.
(DO NOT OVERBAKE! I cooked mine for 10 minutes, and after cooling, my cookies are crunchy which is no bueno!)
Makes around 30 cookies (recipe made 23 for me)
Per Serving: Calories 65, Calories from Fat 21, Total Fat 2.3g (sat 1.8g), Cholesterol 5mg, Sodium 44mg, Carbohydrate 10.3g, Fiber 0.5g, Protein 0.7g
Here's the nutrition facts for a 'regular' chocolate chip cookie: Per Serving: Calories 423, Total Fat 22.08g - YIKES!!!!